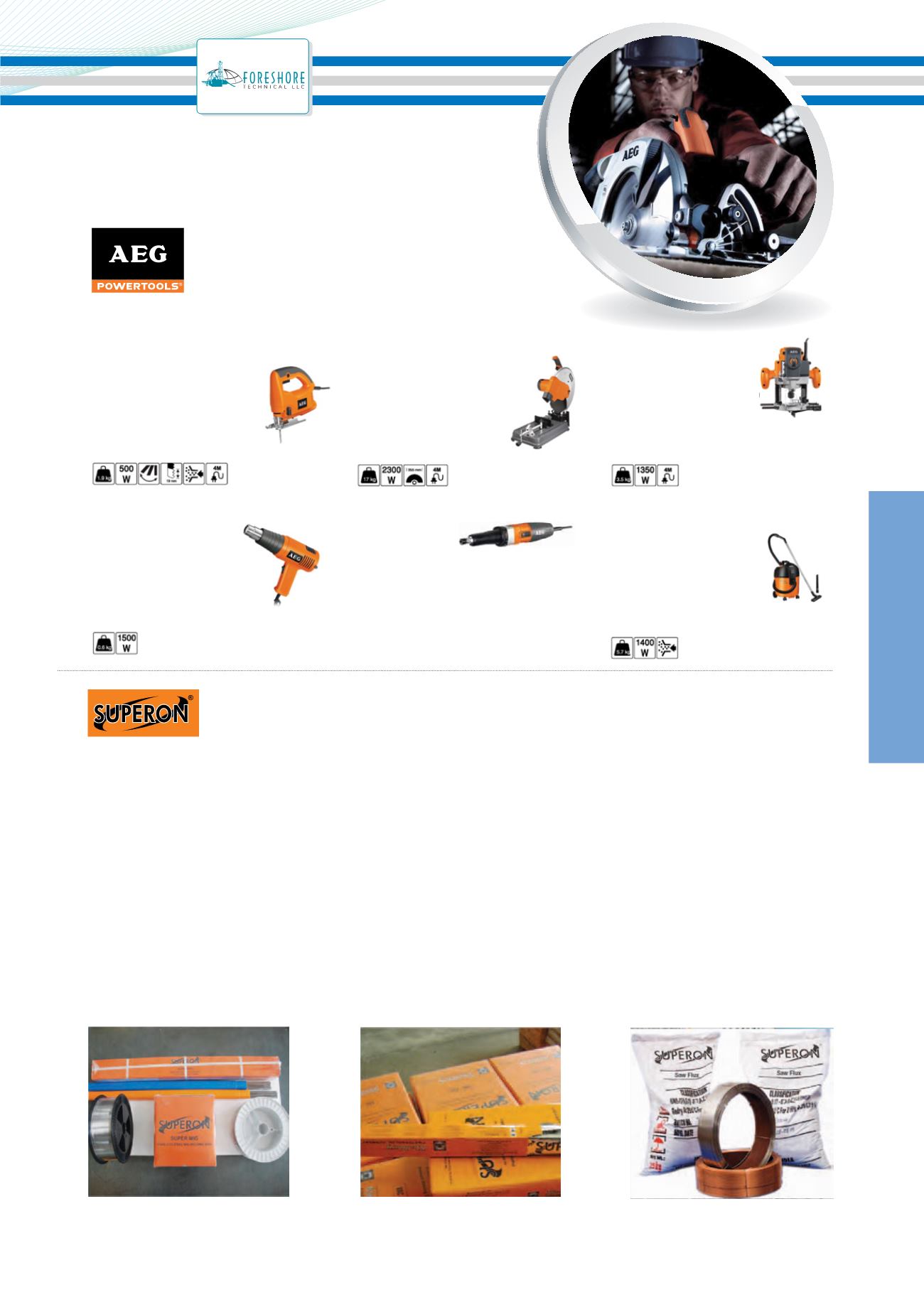 27 AEG + SUPERON
Temperature Control: 300 / 560˚C
No Load Speed: 10000 - 29000 rpm
Max. GrindingWheel Dia.: 40mm
Max. Grinding Pin Dia.: 20mm
Suction hose diameter/length: 32mmx 3.5m
No Load Speed: 1000-3200 rpm
Max. Cutting Depth : 70 / 5 / 10mm
Max. Cutting Depth : 115mm
No Load Speed: 15000-25000 rpm
Established in 2004, Superon Schweisstechnik India Ltd. are the licenced manufaturers of international quality Welding
Electrodes, Paints & Coatings, Aerosol sprays and Speciality Industrial Lubricants. Superon's multiple ISO-Certificate
manufacturing facilities, modern R&D centre, state of of the art machinery & QC systems, ensure the production of world
class quality. Matching for exceeding the est produced anywhere in the world today, in this product categories. They
produce with technical collaboration with OERLIKON and KJELLBERG.
Superon's welding materials ranging from covered electrodes and semi-automatic welding wires to wires and fluxes for
automatic welding, are all produced under rigorous standards. Each product is highly acclaimed by industries both inside
and outside of India for proven reliability under various welding conditions. Our flux-cored wires provide high welding
efficiency and good weldability. We offer flux-cored wires for a wide variety of steels such as mild-steel, high tensile steel,
steel for low-temperature applications, heat resistant low alloy steel and stainless steel. We also provide various kinds of
flux-cored wires for zinc-coated steel sheet and painted steel sheets.